Bunge Loders Croklaan
Every target group a suitable learning offer
Bunge Loders Croklaan is known worldwide as a major producer and supplier of special vegetable oils and fats to international industrial customers. Together with the co-founders of the Round Table of Sustainable Palm Oil, they have a common goal: sustainability and environmentally friendly production.
The question
Bunge Loders Croklaan wants to work with good people and offer them opportunities to develop. Traditional classroom education was becoming less and less sufficient. After researching other forms, they decided to continue with e-learning.
The very positive recommendation of their transporter Van Den Bosch Transport led Bunge Loders Croklaan to choose to use ILIAS via Future Learning. The question to Future Learning was to set up the learning environment and to train them in the use and possibilities of it.
The solution
ILIAS provides Bunge Loders Croklaan the opportunity to give the very diverse target groups all a suitable learning offer. The e-learning modules can be developed by Bunge Loders Croklaan themselves within the learning environment. The management can digitally monitor which colleagues have successfully completed the modules.
Future Learning has set up the ILIAS environment and provided the corporate identity. Future Learning has also trained Bunge Loders Croklaan intensively in the functional use of the learning environment.
Result
An equipped Bunge Loders Croklaan Academy with a suitable e-learning offer for a wide range of target groups.

 

For example:

 

a general company introduction, HACCP training (hygiene and food safety), work instructions and training programs
A good view on the level of training of employees thanks to the digital monitoring of the learning progress
Hosting and technical support of the ILIAS environment is provided by Future Learning through Managed Services
Support of Future Learning with practical questions and thinking along about new possibilities and developments with a Functional Support Contract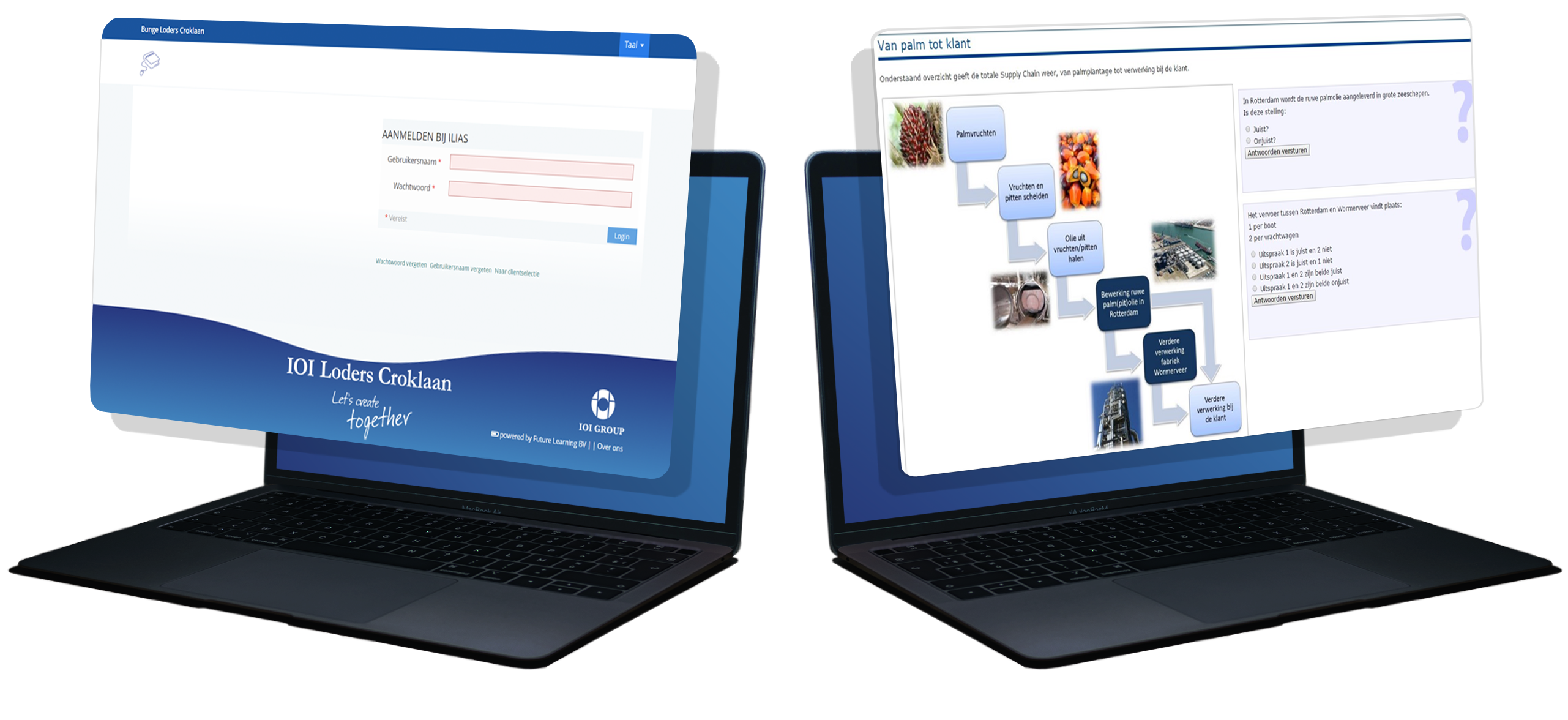 "We started looking for new forms of learning and ended up with e-learning and Future Learning. We now make the e-learning modules ourselves. For example, the general business introduction module for future new employees. This training includes the palm tree and its fruits, the production process and the organization. This can be made very visible with e-learning."
Read the customer's own story here