Web conference in Learning Environment (LMS)
Wish
It is difficult for all users when they cannot demonstrate participation in a virtual class. In ILIAS with the BigBlueButton™ you can!
Solution
We offer an integration of the web conference tool BigBlueButton in the learning environment ILIAS. This has the advantage that participation in a virtual classroom can be automatically registered within a course.
During the development of courses, the virtual classroom is available as a course component directly within the learning environment.
After logging into the learning environment, the student or course participant can immediately register for the available virtual classes.
Participation in a virtual class can be included directly in the course progress. This can be viewed immediately afterwards by means of various reports.
With this integration of the virtual classroom software within the learning environment ILIAS, one can communicate within the learning environment via audio and video in a virtual classroom (interactive: sending and receiving) or a webinar (sending only).
Target audience
Medium to very large companies, organizations, government or educational institutions.
How
To integrate the BigBlueButton in ILIAS, a plugin will be installed and implemented.
This integration is also possible with many other learning environments such as Moodle and Canvas. We can also provide support for this.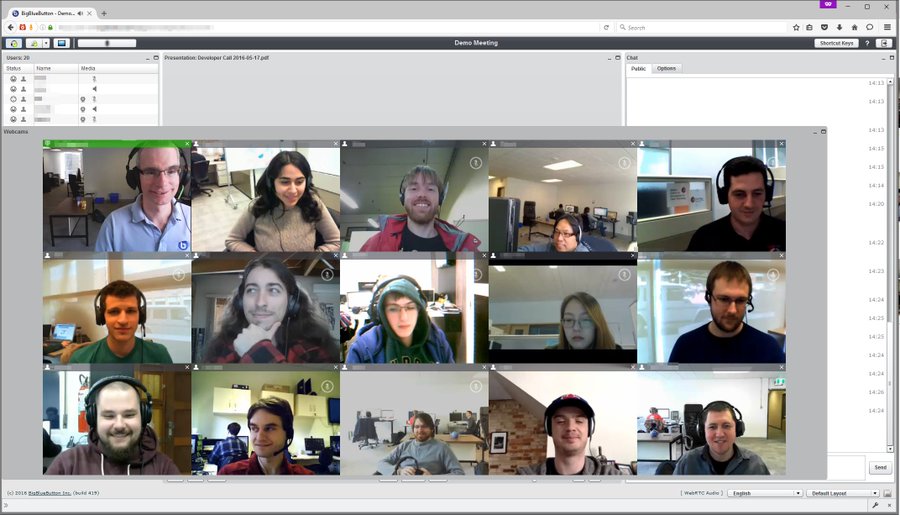 Interested in this web conference solution?
Noot BigBlueButton™
Future Learning BV gebruikt als product de open source versie van de BigBlueButton™ -software. We worden niet ondersteund of gecertificeerd door BigBlueButton Inc. BigBlueButton en het BigBlueButton-logo zijn handelsmerken van BigBlueButton Inc.
Future Learning BV uses BigBlueButton™ and is not endorsed or certified by BigBlueButton™ Inc. BigBlueButton™ and the BigBlueButton™ Logo are trademarks of BigBlueButton™ Inc.