Ewals Cargo Care
User-friendly customizable learning platform
Ewals Cargo Care creates unconventional logistics solutions. With intelligent systems, processes, and continuous innovation, they solve new challenges in logistics. Ewals Cargo Care combines road, rail and water transport for the best multimodal solution for transporting cargo.
The question
Ewals Cargo Care wanted to have a user-friendly and completely open source learning management system with a strong community behind it. The choice was made for ILIAS.
Future Learning has been asked to provide support in setting up and designing ILIAS.
The solution
Compared to other open source systems, ILIAS offers relatively few extra costs in the system and can be customized in a very user-friendly way for Ewals Cargo Care. Both at the organizational level – corporate identity, role/rights management, the use of wikis and forums – and at the student level.
Reports can be differentiated, per SCORM module, per country and unit, the scores can be recorded and easily compared. 
Future Learning has set up the ILIAS environment and provided the design in accordance with the Ewals-environment.
Result
With the help of ILIAS, Ewals Cargo Care can continue to work on the development of employees and on well-connected teams.  Tailor-made training is a precondition for the company to continue to offer the highest level of quality.
Drivers, office workers and other staff get blended learning through a mix of mentors, classroom training and e-learning. More than 4000 ILIAS users are active in 15 European countries.
Future Learning provides the hosting and technical support of the ILIAS environment through Managed Services.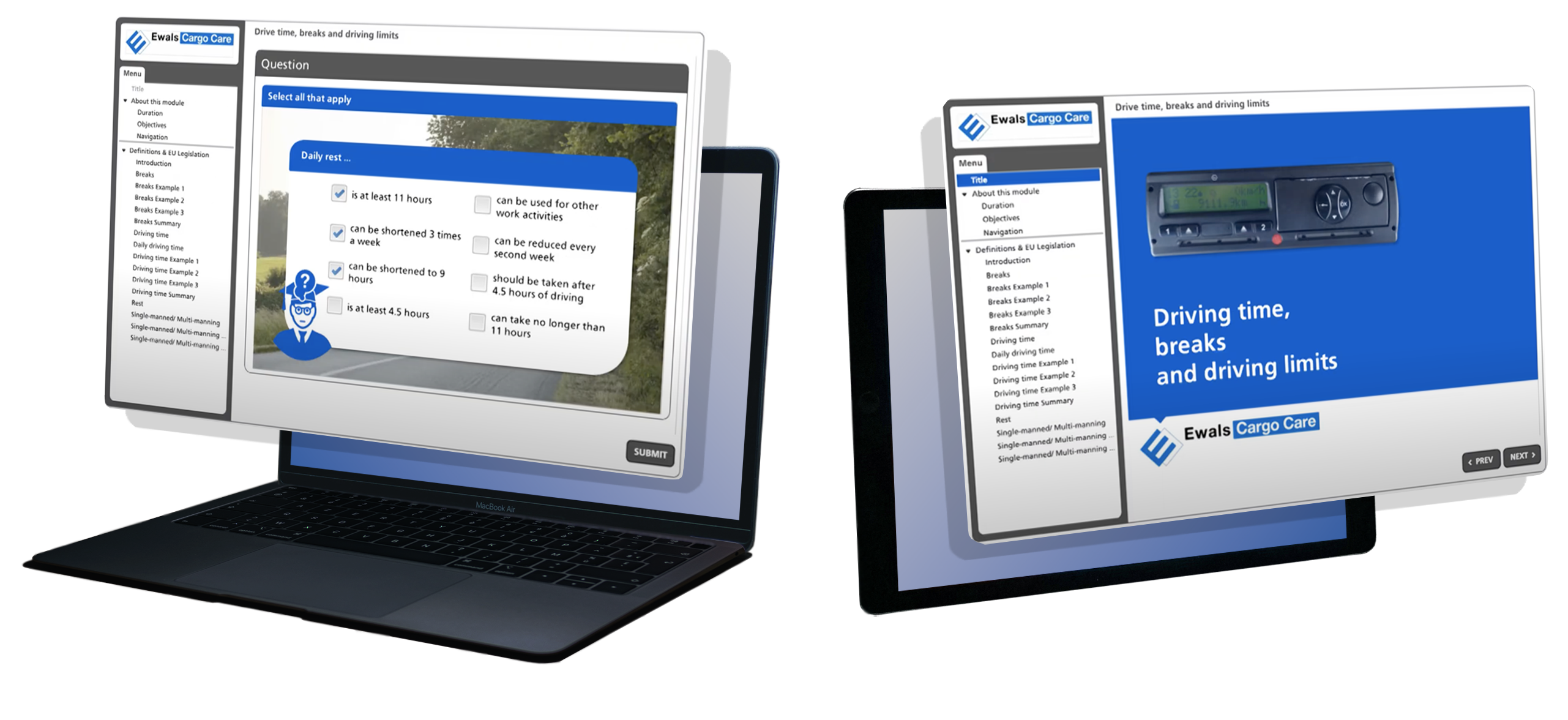 "In our training courses, e-learning is becoming increasingly important. But not everything goes through e-learning. For example, our Driver Education Program, the training courses for our drivers, are completely blended."
Read the customer's own story here