If people realize that learning is fun, besides being necessary, then people will automatically continue Life-Long Learning and Life Long Developing. Learning becomes 'engaging' when employees and participants start to see that they have something to do in the short and longer term and because they can achieve something for themselves.
By combining different learning opportunities and activities, putting together the good recipe, the employees naturally become enthusiastic and they also learn more and better or acquire knowledge and skills. On the daily work floor there are often still practical considerations that can form a stumbling block, such as:
Employees do not have enough time to learn
Do your employees have insufficient time for training? Do they stop learning anything after the training? Or have they forgotten everything after a few days? Or do your employees just want to know how it works? And, do you want to relieve the colleagues who receive continuous questions?
A solution is: Micro-learning
Micro-learning is a series of short but complete learning activities that can be used immediately if they are needed. Bite-sized chunks of knowledge that are often offered in the form of interactive video, but there are also many other forms possible, such as 2-dimensional or 3-dimensional animations. They are also easy to use on mobile devices. Micro-learning is therefore quick and relatively inexpensive, and attractive short powerful modules can be created with a tool such as H5P, a tool for quickly and easily creating a library of reusable knowledge by content experts.
Micro-learning is useful in behavioral change, performance support, compliance, knowledge assurance and also in onboarding training. Animations are perfectly usable in maintenance training for maintenance engineers and engineers. For example in Logistics, Industrial Automation, Automotive Engineering, Chemical Technology, Process Technology, Metal Technology.
Gained knowledge disappears too quickly.
The knowledge must be continually tested and refreshed at random moments. Employees are often unaware that knowledge and skills are constantly changing.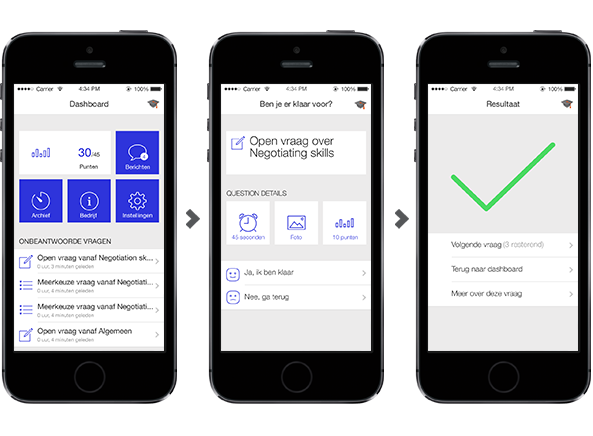 A solution is: Mobile Learning App
With the App you can absorb and test your mandatory, current and practical knowledge and expertise in any form, at any time and at any location.
Multiple choice questions, open questions, cases, assignments, reminders, challenges, sequential learning incentives, with or without multimedia support, various learning interventions are possible. In this way, learning is very close by and can easily be communicated.
Employees often are unaware of what they don't know or what unconscious knowledge is and then soon it's too late.
It is important to experience and to be aware of what can lead to a wrong decision. Wrong decisions can be dangerous and lead to injuries or even fatalities. In Sales Training, Safety and Service Support Training it is important that you yourself experience the effect of your choices on your own actions and that of others.
A Solution is: Virtual Reality, Augmented and Mixed Reality
With an interactive 360 degree video as a Virtual Reality environment, you quickly experience the consequences of your own actions and learn to anticipate in a way that can be put quickly and easily into practice with a very good result.
Future Learning helps, based on your specific business case and use case, to realize a proof of concept and to try it out in practice. Then you can quickly experience, at a reasonable cost, which positive results can be achieved in practice and then how the implementation can take place. The results of described learning interventions can soon be reported in the LMS ILIAS as well.
Learning and motivating are two sides of the same coin. We have the expertise to facilitate you, that is, both to enthuse and motivate the participants and thus to facilitate lifelong learning. Make an appointment with one of our experts to show the possibilities.
Call +0031(0)165-700511 or click on the expertise session button