The Future Learning team was again present at the annual ILIAS conference this year, this time in the beautiful Luzern. This year the conference was organized by the Hochschule Luzern.The Developers Day was on September 5, the ILIAS Conference took place on September 6 and 7. Much time has been spent on improving the security of ILIAS over the past period, making ILIAS safer for intruders via the Internet. Although ILIAS is known as a safe system (among other things used by NATO on this basis) there are many developments in this area.
Another development is to cut the functionality of ILIAS into manageable pieces. For example, the Test & Assessment Engine has become too big for one developer. In addition, a lot of attention is paid to improving the user-friendliness and look & feel of ILIAS. ILIAS 6.0 (March 2020) will have a completely new user interface concept with expandable bars on the left and top of the screen, which is also fully compatible with smartphones and tablets.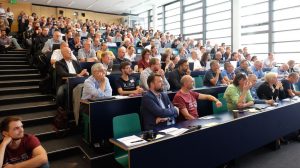 An introduction was given by Matthias Kunkel (product manager ILIAS) together with Alexander Killing (one of the most important software developers) about the future of ILIAS, especially in the area of ​​user-friendliness and the look & feel. Functionally, the repository function of ILIAS is fairly unique, especially after it is now also possible to use ILIAS as a LTI provider. Which means other LMS systems can use ILIAS content via LTI.
In the morning, together with Uwe Kohnle (maintainer learning standards and CEO of Internetlehrer GmBH) and Stanislav Wischniak (consultant Qualitus GmbH), I gave a presentation on the implementation of Experience API in ILIAS. Experience API is the successor to SCORM and makes it possible to do much more detailed learning analytics, both for content imported into ILIAS and for external content (such as simulations or games) and for content on smartphones and tablets (AR, VR). .
This development in ILIAS will take place in ILIAS 5.4 and ILIAS 6.0 and is mainly financed by the Dutch Army. In recent years the Army has invested 1 billion euros in simulation environments for training and training. One would like to see the data from these simulations end up in ILIAS, whereby ILIAS itself is again linked to central HR systems within Defense.
In the afternoon I attended a presentation on how ILIAS is used by governments and companies, such as an insurance company, the Ministry of the Interior of North Rhine-Westphalia and a publisher in the field of science.
On Friday, Uwe Kohnle from Internetlehrer Gmbh showed the various possibilities for linking ILIAS to a Virtual Classroom (synchronous education via the internet). One of the most important options is the Canadian open source environment BigBlueButton. Then there was a presentation about Open Educational Resources. In countries such as Germany, Norway, Canada and other developed countries, a development is under way to develop learning materials that can be used by others (anywhere in the world).
Our team: Robert, Hester, Joke and Göran has spent a very pleasant time in Luzern. The conclusion is that ILIAS is very much alive and has a clear roadmap for the future.
Report by colleague Göran Kattenberg